As part of the 10th Anniversary LoLa Art Crawl, we are spotlighting some of the artists who have participated the longest. We hope you help celebrate their contributions, unique making commitments and vision for our vibrant neighborhood.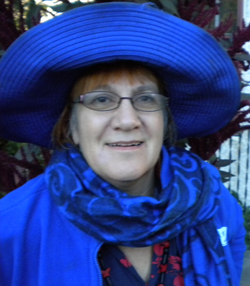 "I am an artist, documentary drawer, teacher, storyteller, and writer.  I use drawing to navigate everyday life.  Documentary drawing has many facets including drawing my way through difficult medical moments with empathy and humor.  My artistic journey is about the moment and memory.  As a teacher I try to help people use art to find comfort and empowerment through life's joys and challenges.  Intuition, empathy, and humor lead the way."
"I paint in the Chinese tradition to express the soul of the Minnesota landscapes that I know and love. To paint the falls, Lake Superior and the city lakes in this manner brings a great joy and a peace."
A self-described maker and crafter who uses the business name Art On a Limb, Shirley creates beadwork jewelry, crochets and hand sews bags, makes buttons on a button press, and makes cards.
She is glad that LoLa has not become commercialized or professionalized; that it remains volunteer run, non-juried, and community focused. In her view Lola was at its inception, and still is, "about art, and love, and community-building."
For more than two decades, Gordon has been exhibiting and selling his work at juried shows all around the U.S. n November he will have a one-person show at the Hopkins Center for the Arts. Gordon's work hangs in the Minnesota State Capitol and is in the permanent collections of many other institutions. But if you're really lucky? You're in Minneapolis during the LoLa Art Crawl and can hang out in Gordon's back yard. There, at Site #49, you can see, purchase, and learn about his latest work.
He enjoys seeing the work of other LoLa artists and has found the LoLa organization a useful network for exchanging practical advice on matters such as where to get cards printed and how to produce good digital images.
Jean and Lee attended the first LoLa art crawl organizing meeting in the summer of 2009. As established professional artists, they both had prior experience putting on art shows, and they volunteered to be officers of LoLa—Lee was co-treasurer and Jean was recording secretary, a position she held for five years.
While many LoLa artists opt to show their work at neighborhood business sites, "we like having people in our home," says Lee. "They come in and they kind of say, this is how artists live? Neighbors—you get a lot of people thanking you for welcoming them into your home."
Reflecting on their experiences in LoLa over the past decade, Jean and Lee both emphasize the importance of the community of artists it has created. "LoLa," Jean says, "provides an entry place for people that are new to showing their creative work.  Just the experience of having someone come to my house, look at my work, and say, 'Oh, I like your work!'—how affirming that is!"